Post by Andared on Mar 17, 2014 18:04:19 GMT -8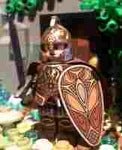 Which forums specifically, and how would you suggest we improve them?

I agree with this sentiment completely.
One example would be the NoR forum, which is extremely sectioned. It may look a little more cluttered, but I find it far easier and less tiresome to just scroll through a long list of topics, instead of having to click link after link to get to the right subforum for the topic I'm looking for. I would combine the GC, Global Events, and Guild hall subforums with the faction subforum, for instance. It is not difficult for me to scroll through a list of topics with distinctive names, but it is tedious to have to click so many links just to get between topics.
I would keep the Brawl within its own subforum, since it is much different from the rest of the LoR, but all the other things are connected with the LoR in general, and having it under one subforum would make searching for new activity and posts among the different groups infinitely easier.
Also, could we transfer a few more topics from the LCC into this new forum? Some suggestions of mine would be:
1. All of the past GC threads (and their conclusions). My reason for this is that it is nice to be able to go back and look at past entries, see who won, and see how they were set up. It would also be very useful for newer members who are trying to grasp the concept and rules behind our Global Challenges.
2. Another little-known thread that I found to be extraordinarily helpful (not to mention extremely well written) was Koffiemoc's "
About the nature and working of magic
" which is excellent at explaining how magic in LoR works, and a very helpful reference for any stories or builds that one might attempt that involve some sort of magic.
There are probably a few others, but these were the two that immediately came to mind. Also, would it be possible for us to dedicate a topic simply to the map of Roawia, with detailed information about all the major cities, landmarks, and important geographical locations? I believe that this would be extremely useful to newer members (and even older members), who do not already have a visual map of Roawia in their minds, or wish to crosscheck something for a story they are writing.